Hey everyone! I am SUPER excited to share my very first Papertrey Ink post with you today!! We are celebrating PTI over the years this month and today is all about 2007! I am working with the gorgeous Beautiful Blooms set below: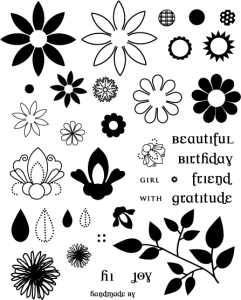 For my project I created an almost one layer card. 🙂 I started by stamping those big beautiful branches of leaves in Limeade Ice and accenting them with Simply Chartreuse dotted leaves. One of my favorite things about this set is the added whimsy that the dotted accents and the outlines provide. It totally brings this set to a whole new level and completely increases it's usability.
My sentiment is stamped on a piece of Soft Stone cardstock and adhered with dimensional adhesive. I love accenting cards with rainstones because they add so much interest to a project without distracting from your overall focal design. 🙂 And seriously… how fun are those flowers?! It amazes me how fresh and on trend this set is when it was created in 07! <3
WITH GRATITUDE CARD SUPPLIES:
STAMPS: Beautiful Blooms
INK: Limeade Ice, Simply Chartreuse, Hawaiian Shores, Tropical Teal, Enchanted Evening
PAPER: Soft Stone Cardstock
OTHER: Rainstones
//
Now that I have showcased how this product from the past has remained a classic, it's your turn to share your ideas for the future! Stop by Nichole's blog to share a new project you make with this product, or just share a creation that is somehow inspired by what I made today. Get crafting and enter today so you can be eligible for a fantastic prize!
Much love dear crafters!
Xo, Stephanie
Are we friends yet?! 🙂 Follow me on FACEBOOK // INSTAGRAM // PINTEREST
Save
Save
Save
Save
Save
Save