I can't believe how quick these days are flying! Today is 2011 baby and I am working with one of my all time favorite stamp set crushes, the Garden Variety set below: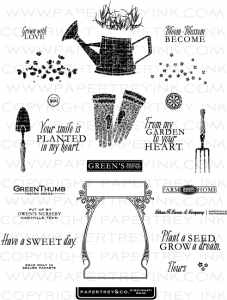 I don't know if it's because I have a cursed black thumb or what, but I simply adore all things gardening. This set has always been a favorite of mine and I am ecstatic to be able to show it off to you all today.
This card is actually inspired by an adorable print I found on Pinterest one day:
The color combo really got me and I wanted to try it out with this set. And HOW CUTE is the seed packet outline?! I want to put in on everything!!!
HAVE A SWEET DAY CARD:
STAMPS: Garden Variety
DIES: Garden Variety Coordinating Dies
INK: Simply Chartreuse, Smokey Grey, Tropical Teal, Hawaiian Shores, Limeade Ice, Enchanted Evening
PAPER: Stampers Select White Cardstock
//
Now that I have showcased how this product from the past has remained a classic, it's your turn to share your ideas for the future! Stop by Nichole's blog to share a new project you make with this product, or just share a creation that is somehow inspired by what I made today. Get crafting and enter today so you can be eligible for a fantastic prize!
Much love everyone!
Xo, Stephanie
Are we friends yet?! 🙂 Follow me on FACEBOOK // INSTAGRAM // PINTEREST